Program Topic:
How Not to Design a Steam System
Learning Objectives:
1)      Boiler Sizing:
               - pph required to process
               -  Correcting for operating pressure
               - Correcting for feedwater temperature
2)      Near Boiler Piping Considerations
3)      Steam Distribution and Condensate Handling
4)      Deaeratro Design and Use
5)      Leading Causes of Pressure Vessel Failure 
Bob Sorensen, Western Regional Sales Manager at The Fulton Companies, a global heat transfer manufacturer with operations in China, Switzerland, The United Kingdom, and North America. 
A graduate with a Science Degree majoring in Medical Technology, Bob left clinical healthcare in 1984 to join an energy sector affiliate of Southern California Gas Company and has worked in energy markets since that time developing micro co-generation platforms and traditional central utility heating and process systems.
He has utility, energy contracting, combustion and control experience working throughout North America for the past three decades. In his current position with Fulton, Bob is responsible for business planning and development, market and product research, and manufacturer representative management.
Registration and Payment for Upcoming Event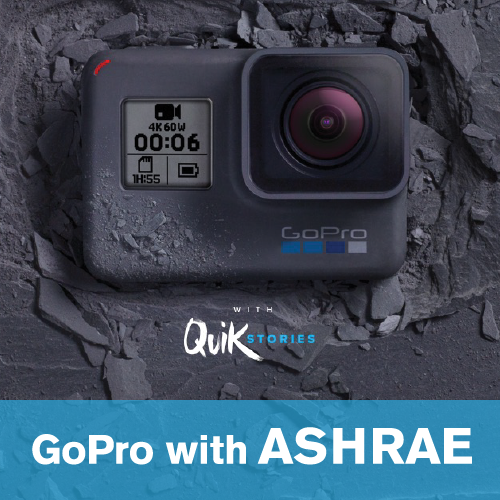 Take your career to the next level and GoPro with ASHRAE! New Members who join between July 9 and August 31 will be automatically entered to win a GoPro Hero 6 Black. If you or someone you know is thinking about joining ASHRAE, now is the time to do it!
The winner will be contacted the week of September 3 and announced on this page no later than September 20, 2018. See complete Contest Rules
2019 ASHRAE Winter Conference & AHR Expo
Atlanta, GA | January 12–16, 2019
The 2019 ASHRAE Winter Conference will be held in Atlanta, GA! The Technical Program along with Committee meetings, Registration, the Bookstore and Speakers Lounge will be at the Omni CNN Center and the Georgia World Congress Center. 

The AHR Expo will take place at the Georgia World Congress Center, Monday, Jan. 14 – Wednesday, Jan. 16.
Registration is now open:
REGISTER NOW
JUSTIFICATION TOOLKIT
Your ASHRAE Conference badge provides free entry to the AHR Expo show floor, or you can register for free until January 9, 2019. After January 9, 2019 the fee will be $30 to attend the AHR Expo only.
We will now be posting our Chapter's meeting minutes on this website for download.  The Meeting Minutes section is under the "About us" section in the green menu bar on the left of the website.  Click here to view the available minutes to download: http://www.ashraetucson.org/about-us/meeting-minutes